VIP4Air/Slave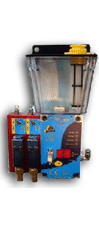 Air/Oil minimal lubrication system with electronic monitoring designed for integration with Machine Control
Key features:
- Operating Voltage: 24 V DC
- Power Consumption: 60 V A
- Air Pressure: 5 ÷ 8 bar (73.5 ÷ 117.6 psi)
- Output Signals: 24 V Logic signals
- Temperature: -5 ÷ +55 °C (23 °F ÷ 131°F)
- Max Humidity: 90% max
- IP Protection Grade: IP-44
- Lubricant: Oil
- Lubricant Viscosity: 32 ÷ 220 cSt (150 ÷ 1018 SUS)
- Storage temperature: -20 ÷ +65 °C (-4 °F ÷ 149 °F)



The Vip4Air/Slave system can be used for a wide variety of applications, ranging from bearing, high speed bearing & spindle lubrication to sophisticated dry machining application where precise but variable quantities of lubricant need to be injected onto the machining area with the key feature of providing positive lubrication feedback to the host (timing control) system.

The Host system can control the lubrication cycle simply by operating a solenoid installed prior to the Vip4Air/Slave system.

The Vip4Air/Slave's incoporated electronics monitors the air pressure via an electronic transducer to determine the start and monitoring of the lubrication cycle thus providing a feedback via the remote connector of completed lubrication cycle.

Additionally the electronics will provide air pressure monitoring information and low level condition to the host machine.

A Manual button is located on the Vip4Air/Slave unit that the user can use to send a signal back to the host machine either to trigger a lubrication cycle or for any other function that may be required (for example priming).

This highly compact unit can be installed directly onto the machine requiring no other special auxillary equipment to operate it.



Downloads
Brochures
Manuals and 3D Models
To access the MANUALS and 3D MODELS please sign in with the login box on the top right of the page or register