VIP4Chain
The economical, clean and precise way to apply lubricant to chain or conveyor systems. Precise, controllable dispensing function
Key features:
- Operating Voltage: 24 Vdc 110 Vac
- Power Consumption: 10 W
- Air Input Pressure: 5 ÷ 8 bar
- Remote Alarm Signal: RELAY signal max 250 V 1 A N.O./N.C.
- Operating Temperature: -5 ÷ +55 °C
- Max. Working Humidity: 90% max
- IP Protection Grade: IP-44
- Compatible Lubricants: Mineral Oils
- Oil Viscosity: 32 ÷ 220 cSt
- Storage Temperature: -20 ÷ +65 °C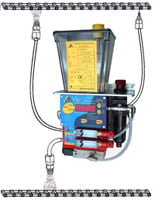 Dropsa's new VIP4Chain Automatic Chain lubrication system is an advanced Chain or Conveyor lubrication system at a very affordable price

The Vip4chain has been designed to be used for Air/Oil Chain Lubrication, Spray or dispensing applications.
The system is completly modular and very compact therefore can be quickly and easily installed following the instructions in this manual.

A sensor connected to the Vip4Chain's sensor-input monitors or 'counts' the chain movement; for example the number of links. The Vip4Chain can then be set to count how many links should be lubricated (from one to ten thousand) .

The unit consists of a base module which houses the electronic control and monitoring system. The unit can then be configured to have one or more (max. 6) dispensing modules which consist of an adjustable micropump (0-30 mm.³) fitted onto a modular mixing base element.

Inside the mixing base a flow control is integrated and it is used by the central unit to verify the proper functioning of the equipment.
Modularity makes the system extremely versatile, allowing you to install a variable number of bases of extensible mixing up to 6 elements.

The high technology included allows complete control of the lubrication, combined with ease of assembly that excludes unnecessary connections.






Downloads
Brochures
Manuals and 3D Models
To access the MANUALS and 3D MODELS please sign in with the login box on the top right of the page or register