VIP4Air/Continuous Air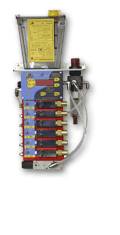 Continuous Air-Oil Lubrication System
Key features:
- Power supply voltage 24 VDC - 110 VAC
- Electrical input 10 W
- Air supply pressure 5 - 8 bar (73.5÷117.6 PSI)
- Lubricant Synthetic mineral Oil
- Oil viscosity (at working temperature) 32÷220cSt (149.9÷1018 SUS)
- Output signal Remote alarm contact: max. 250 V 1 A NO/NC
- Working temperature +5 ÷ +55 °C (+41÷+131°F)
- Working humidity 90% max.
- Protection class IP-44
- Storage temperature -20÷+65 °C (-4÷+149°F)


The lubrication system VIP4Air /Continuous Air has been designed to guarantee high performance at low price and is characterised by compactness. It has been conceived for use on:
- spindles;
- machine tool;
The panel is composed of a central unit which manages the entire system regulating and controlling the operation of the dividing and mixing modules, which are made up of pneumatically controlled mini-pumps and the mixing bases.
Mini-pumps can be arranged with different spacers in order to vary the flow rate and satisfy any requirement.
A flow control is integrated inside the mixing base, which is used by the central unit to verify the correct functioning of the equipment.
Modularity makes the system extremely versatile: up to 8 mixing bases can be mounted on each unit.
The high technology allows a total control of the lubrication while the simplicity of installation makes unnecessary the use of movable connections.




Downloads
Brochures
Manuals and 3D Models
To access the MANUALS and 3D MODELS please sign in with the login box on the top right of the page or register