Pump Series 999000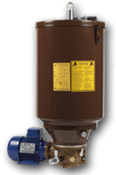 SEE NEW PRODUCT: MINISUMO

Key features
- Operating pressure: up to 45Mpa (450bar)
- Delivery: - Fixed: up to 33 cm^3/min - 1500 r.p.m.
- Adjustable: up to 51 cm^3/min - 2200 r.p.m.
- Lubricant: - Oil viscosity 100cSt min
- Grease NLGI 2


Modular pumps particularly suitable for the lubrication of small or medium size machinery.
They are used for different types of oil and grease lubrication systems and in a very large range of applications because of their high quality, high performance and low cost.

The modular construction of 999 series pumps enables easy dismantling for maintenance, guarantees very high reliability and allows very fast adjustment of the units for different operating conditions.

The semplicity of construction guarantees long life, reliability and simplified and reduced maintenance.
The modularity of the components allows the system engineer to construct the lubrication unit to meet the specific needs of the lubrication system it is serving.



Downloads
Brochures
Manuals and 3D Models
To access the technical documentation download area, please sign in with the login box on the top left of the page or register.
PART NUMBERS

Part numbers - Models found

Part numbers - Accessories found

| Availability | Part Number | Description | Price | Lot Size | Buy |
| --- | --- | --- | --- | --- | --- |
| | 0299443 | KIT X LS IP 1WAY-350 BAR | | | |
| | 0299444 | KIT FOR LS 2P 1 WAY-350 BAR | | | |
| | 0299445 | KIT FOR LS 2P 2US-350 BAR | | | |
| | 0299450 | RELIEF VALVE-BY-PASS 0-250 B | | | |
| | 0299451 | RELIEF VALVE-BY-PASS 0-350 B | | | |
| | 0299462 | PUMP- B-P 1P HYDR.REVERSER | | | |
| | 0299463 | ASSY KIT | | | |
| | 0299466 | RELIEF VALVE-0-250BAR SS | | | |
| | 0299467 | RELIEF VALVE-0-350BAR SS | | | |
| | 0299474 | KIT HYDR INVERTER | | | |
| | 0299482 | KIT FOR LS 1P 1 OUT 200 BAR | | | |