Hand pump for oil and grease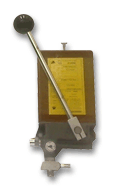 Single-Stroke with oscillating handle
Specifications:
- Maximum pressure : 125 bar (controlled by valve)
- Reservoir capacity : 1 Kg
- Delivery: 1 cc
- Adjustable handle position
- Grease outlet: 1/4" Gas thread cyl.
- Weight: 3,2 Kg
- Filter: 125 micron on C
- Rod protruding from top lid acts as level gauge.

Pump of sturdy construction for heavy duty. Cast iron body, hadened and lapped steel piston and reservoir in die cast light alloy.
Pressuer indicator set at 10 MPa ( 100bar) ( 1450 psi) and check valve. The version for grease with follower plate and level inidcating rod: the one oil is cmplite with visual indicator and re-filling filter


Downloads
To access the documentation download area, please sign in with the login box on the top left of the page or register.
PART NUMBERS

Part numbers - Models found

Part numbers - Accessories found

| Availability | Part Number | Description | Price | Lot Size | Buy |
| --- | --- | --- | --- | --- | --- |