Pump Series 31070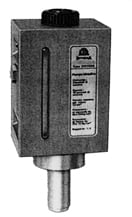 Hydraulically driven pump
Key features:
- Viscosity of the lubricant at working temperature: between 115 - 2000 cSt
- Working temperature: + 5 - + 50 °C
- Working humidity: 90 % relative humidity
- Preservation temperature: - 20 - + 50 °C
- Sound pressure level: < 70 dB(A)


The pump is of robust construction, with a high strength light alloy cast body, or a sheet steel body, and a lapped steel piston.
The pump unit is made up of a cylinder in which operates a piston with an oilproof seal; a spring returns the piston to its start position.
The pump must be provided with a three way electrical or mechanical distribution device, that is line-cylinder-discharge.


Downloads
Brochures
Manuals and 3D Models
To access the MANUALS and 3D MODELS please sign in with the login box on the top right of the page or register
PART NUMBERS

Part numbers - Models found

| Availability | Part Number | Description | Price | Lot Size | Buy |
| --- | --- | --- | --- | --- | --- |
| | 3107001 | PUMP-HYD-15CC 0.8LT | | | |
| | 3107017 | PUMP-HYD-15CC 0,8LT MIN LIV | | | |
| | 3107021 | PUMP-HYD-30CC LT 1.5 MIN LEVEL | | | |
| | 3414100 | HYDRAULIC PUMP 1:1 0-300bar | | | |

Part numbers - Accessories found

| Availability | Part Number | Description | Price | Lot Size | Buy |
| --- | --- | --- | --- | --- | --- |