Rollo Pump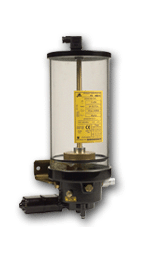 SEE NEW PRODUCT: BRAVO PUMP

Specifications:
- Max. pressure-bar (psi): 250 (3625)
- Flow rate: 6 cm³/min
- Tank capacity Litres/Kg: 2 or 4
- Max. working time (min) for 50 W version: 5
- Max. working time (minimum for 120 W version): unlimited
- Oil Viscosity: min. 15 cSt
- Max. grease consistency: NLGI 2
- Temperature of use: - 5 °C - + 40 °C
- Motor: 24 VDC
- Absorbed power: 50 W/120 W
- Tank: In transparent technopolymer - capacity 2 Kg



The Rollo is a range of motor driven pumps for mineral oil and grease.
The body of the Rollo is in aluminium coated with a special anticorrosion paint; the pump elements are in ground and lapped steel.

The pump is supplied as standard with one pump element assembly and with a capacity to deliver 6 cm³/min.
On request it is possible to mount up to three pump element assemblies.



Downloads
To access the documentation download area, please sign in with the login box on the top left of the page or register.