Pump Series 777000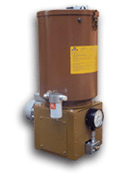 Motorized pumps for Oil or Grease
Also Take a look at our 777 replacement product : The SUMO Pump

Key features
- Lubricant: Oil or Grease
- Maximum pressure 500 Bar (7250 psi.)
- Viscosity: Oil min 100ccSt; Grease max 265ASTM (NLGI 2)
- Pump: Double body type 4 pistons
- Reservoir capacity: 22,66 & 220lb
- Three phase motor: 220/380V 50/60HZ 4 poles.
1500 r.p.m. 0.37kW up +32°F, 0.75kW up to -86°F.
- Protection: IP44
- Reduction unit: 1:15 ratio
- Temperature range: Refer to moto type values

The Dropsa 777000 series modular motorized pump is suitable for a wide range of applications. Once installed it is a simple operation to adjust the pressure and adjust lubricant output (using a flow control).

The modular construction of the pump assembly uses common components throughout the range and therefore reduces spares holding.
The double pump body has two outlets which can either be combined together for one outlet or feed to two independent systems. In the case of a Dual Line System the two pump outlets would operate an inverter.

Access to the pump is simple through the reservoir lid or through the covers surrounding the pump and reduction unit. Re-filling of the reservoir is recommended through the charging filter to eliminate any ingress of contaminates.
The frequency of operation can be monitored with Dropsa Control Panels or through the machines P.C.
The pump has a standard kit identical to the other version Plus hoses, quick copulings and shut-off valves.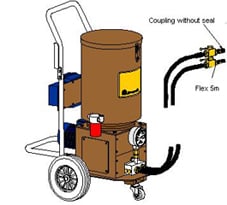 TROLLEY VERSION
The pump has a standard kit identical to the version Plus hoses, quick coupling and shut-off valves.

Overall Dimensions:
Height : 1017 mm
Width: 475 mm
Depth: 730 mm





Downloads
To access the documentation download area, please sign in with the login box on the top left of the page or register.