Pump Series 3414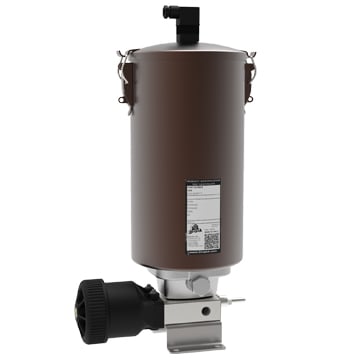 Pneumatic-driven pump
Key features:
- Operating temperature: -5 °C ÷ +80 °C (+23°F ÷ +176°F)
- Storage temperature: -20°C ÷ + 50°C (-4°F÷+122°F)
- Operating humidity: 90% relative humidity
- Flowrate: 0.5÷2 cm3/stroke (0.03÷0.12cu.in./stroke)
- Refilling filter: metallic
- Sound pressure level : 70dB(A)

With reservoir
Pneumatic-driven Pump, Series 3414, is strong and reliable. It consists of a pump body made of zincplated steel, a piston made of hardened and lapped steel, a pneumatic cylinder in which a piston with anti-oil rubber seal runs.
The single-acting drive requires a 3-way solenoid valve. This item can be furnished by Dropsa on request.

Without reservoir
These pumps have been designed for client's reservoir or special reservoir applications.
Equipped with plate with lubricant inlet thread G½ UNI-ISO 228/1.



Downloads
Brochures
Manuals and 3D Models
To access the MANUALS and 3D MODELS please sign in with the login box on the top right of the page or register
PART NUMBERS

Part numbers - Models found

| Availability | Part Number | Description | Price | Lot Size | Buy |
| --- | --- | --- | --- | --- | --- |
| | 3414000 | PUMP-PNEU-50/1 S | | | |
| | 3414002 | PUMP-PNEU-50/1 S LT 5 | | | |
| | 3414005 | PUMP-PNEU-50/1 S FLAN | | | |
| | 3414006 | PUMP-PNEU-50/1 S LT 5 | | | |
| | 3414016 | PNEU-PUMP-2CC ADJUSTABLE | | | |
| | 3414034 | PUMP-PNEU-50/1LT5 RELIEF VALVE | | | |

Part numbers - Accessories found

| Availability | Part Number | Description | Price | Lot Size | Buy |
| --- | --- | --- | --- | --- | --- |