Pump Series 242000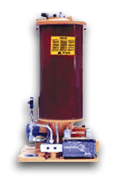 Motorized pumps for Oil or Grease
SEE NEW PRODUCT : SUMO PUMP

Key features
- Operating pressure: up 15Mpa (150bar)
- Pump capacity: max 450 cm/min
-Tank capacity: 65 litres (oil), 65 kg (grease)
- Motor: 3ph:220/380V - 50Hz 1500 rpm- 0,75 kW
- Min. work time (sec) : 2a ( min pause time 96 sec.)
- Operatin temp: -5°C + 40°C
- Lubricant: Oil viscosity 100cSt min ; Grease NLGI 2





The 242 series lubrication pumps are particularly suited to the heavy industrial sector, with its features of long life, safe and constant functioning and reduced maintenance being indispensable for ensuring a perfect and efficient lubrication of machinery working under heavy and demanding conditions, and in particular where continuous operating is required to ensure a high level of production.

By selecting from a range of perfectly compatible and easily assembled components it is possible to vary the pressure, the quantity of lubricant delivered, the type of lubricant or the type of distribution.

The complete machine, mounted on a base, can be considered a true central lubrication unit with its high performance permitting an extensive layout and a high number of lubrication points.

Downloads
To access the documentation download area, please sign in with the login box on the top left of the page or register.