Locopump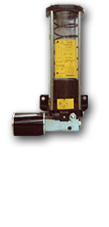 OBSOLETE VERSION
SEE NEW PRODUCT: LOCOPUMP S2

Specifications:
- Compression ratio:  50:1
- Air pressure: min. 3 bar (44 psi) max. 6 bar (88 psi)
- Pression outlet: 300 bar
- Fixed delivery: 2 cc/ strokr
- Lubricant outlet: G 1/4" BSP
- Compressed air inlet: G 1/8" BSP
- Re-filling valve: hydraulic manifolds UNI 7663
- Lubricant: max NLGI 2 grease
- Minimum level contact:   -Max. commutable 100 V D.C.
-  Max. commutable current 0.25 A
- Max. commutable power  8 W (NO) - 3 W (NC)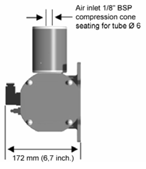 The Dropsa "LOCOPUMP" is a pump of sturdy construction and high reliability, consisting of a zinc plated steel body, a hardened and lapped steel body, a hardened and lapped steel piston and pneumatic driven cylinder housing a piston equipped with an oil resistant rubber gasket.
The reservoir is made of transparent shockproof PMMA and is geared with an electric level control switch.
The Locopump pneumatic control pump uses compressed air to adjust the lubricant delivery during its operations. Therefore, The Locopump is ideally suited for lubrication equipments installed on machines provided with compressed air systems.

Downloads
To access the documentation download area, please sign in with the login box on the top left of the page or register.