VIP Controller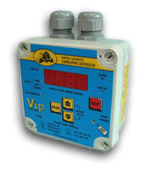 SEE NEW PRODUCT:VIP5

Key features
- Cycle time: from 10 seconds up to 5 minutes (increments of 10 seconds)
- Pause time: from 1 minute up to 60 hours (increments of 1 minute)
- Monitoring of oil level and lubrication cycle
- 4 Digit Display for easy pump operational monitoring and setting up
- Possible to modify the control parameters using the infrared communication
- Cycle counting through impulse counter
- Possible to halted-counting (pause and cycle)



This high performance/low cost Advanced Lubrication Controller has been designed to control and monitor most small to medium size lubrication systems.
The configuration parameters are all electronically stored, in two separate menus, eliminating the need to set DIP switches or jumpers.

The Operator Menu - is used to adjust pause and cycle intervals.

The Factory/System Menu - is used to configure the type of pump and lubrication system to which the controller is connected.

In addition the controller incorporates a scanner located under the remote control symbol on the front panel. When used with the Transmitter Module, the configuration can be downloaded and stored simply by positioning the module over the symbol and pressing the transmit button.
This allows for a considerable time saving for OEM's who use the system on a production line, eliminating the need to individually configure each controller.


Downloads
To access the documentation download area, please sign in with the login box on the top left of the page or register.
PART NUMBERS

Part numbers - Models found

| Availability | Part Number | Description | Price | Lot Size | Buy |
| --- | --- | --- | --- | --- | --- |
| | 1639081 | VIP-ELECTRON 220V 1PH | | | |
| | 1639084 | VIP E-BOARD + PLATE 110/220V | | | |
| | 1639164 | VIP-LUB-TIMER 110/220 ALARM NO | | | |

Part numbers - Accessories found

| Availability | Part Number | Description | Price | Lot Size | Buy |
| --- | --- | --- | --- | --- | --- |