Continuous Casting with Dual Line Greasing System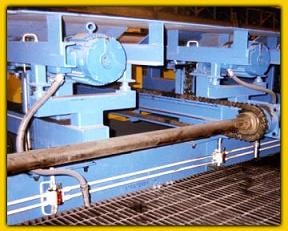 Typical Characteristics of Casting application:
- Slow rotation,
- High temperatures
- Corrosive process water ingress.


Dropsa has brought innovation to Grease system design, reliability and monitoring to traditional Casting applications. In this application example – a traditional grease system – high reliability and ease of maintenance was achieved by using both modular pump package and modular divider valves. A flow monitoring system allows the user to know exactly how much grease is being injected in each segment of the machine


System Overview:
Total Number of Points: from 300 to 400
Total Number of Segments: from 12 to 36
Lubricant : NLGI-2; KHC25
Grease Volume per cycle: 1÷cc/stroke
Operating Frequency: min: 30 min, max: 1h
Length of system: 25÷30mt
This case application was implemented using :
Benefits achieved
High reliability pump package solution with built in redundancy for 24 hour operation.
Easy swap out of pump modules on maintenance schedules
Quick, reliable and clean change-out of divider valves during maintenance
flexibility in design and increased performance over traditional and competitor products
A flow monitoring panel that gives electronic monitoring of the volume of grease injection during each lubrication cycle
Flow monitoring provides grease consumptions for each segment.
Quick diagnostic of any potential problems.
System design



Photos