Feeder Block Series AP6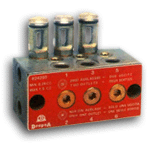 Adjustable Discharge.25-1.5 cc.per/stroke (.15 -.091 cu. in./stroke) Dual Line System
Key Features:
-Temperaute range: -30 to +80°C
- Max pressure (inlet): 400bar (5800psi)
- Cycles: 100/min
- Min. Viscosity: 100 cSt ( 462 SSU)
- Grease Max: 265 ASTM (NLGI 2)
- Connections: - inlet : 1/4" - outlet: 1/4"

The feeder body is made of special anti-friction steel. Pistons are made of tempered steel. Bores and pistons are lapped to provide superior sealing.
The indicator turrets are provided with integral adjusting screws together with a metacrylate cover and seal. On request an aluminium cover can be supplied. The feeder body has a galvanized finish and features an adaptor for single or double outlet conversion.



Downloads
Brochures
Manuals and 3D Models
To access the MANUALS and 3D MODELS please sign in with the login box on the top right of the page or register
PART NUMBERS

Part numbers - Models found

| Availability | Part Number | Description | Price | Lot Size | Buy |
| --- | --- | --- | --- | --- | --- |
| | 0622150 | AP6-VALVE-1.5CC 1-2 OUT | | | |
| | 0622250 | METERING UNIT-AP6-1,5CC/S-2OUT | | | |
| | 0623150 | METERING UNIT-AP6-1,5CC/S-4OUT | | | |
| | 0623250 | METERING UNIT-AP6-1,5CC/S-4OUT | | | |
| | 0624150 | DOSATORE-AP6-1,5CC/C-6 USCITE | | | |
| | 0624250 | "METERING UNIT-AP6-1,5CC/S-6OUT" | | | |
| | 0625150 | 02-DIVIDER.AP6,8A,0.25-1.5 CCM | | | |
| | 0625250 | "METERING UNIT-AP6-1,5CC/S-8OUT" | | | |

Part numbers - Accessories found

| Availability | Part Number | Description | Price | Lot Size | Buy |
| --- | --- | --- | --- | --- | --- |
| | 0622256 | AP6-ALUMINIUM COVER | | | |