Magnom Mini,Midi,Max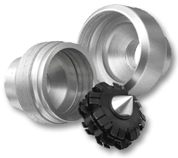 Bi-directional magnetic filters in line for two-way plant liquids, gases and greases
Key features:
- Mounted in-line
need a minimum space
- Compact and efficient
- Bi-directional flow
- Two core unit
- Max. Operating pressure: 1,500psi (104bar)
- Burst Pressure: 10,000psi (695 bar)




The bi-directional unit mini, midi and max is a compact small unit in-line adapted to very high pressure for hydraulic transmissions and fuels.
It consists of a double magnetic filter threaded on both sides
There are three units:
MINI: It is the ideal choice for critical component protection in smaller transmissions, for use on hydraulic lines, and "on vehicle" automotive systems, including fuel lines.
MIDI: Built from Aluminium Alloy, is a 2 core Magnom™ in-line unit that has a high pressure capability making it suitable for a variety of industrial and hydraulic applications.
MAXI: Has been specifically designed for the needs of the off highway vehicle market. It is the Magnom™ of choice for fitment to many larger off highway vehicle transmissions and hydraulic systems, where it uses the patented Magnom™ technology to provide critical component protection.




Downloads
Brochures
Manuals and 3D Models
To access the MANUALS and 3D MODELS please sign in with the login box on the top right of the page or register

PART NUMBERS

Part numbers - Models found

| Availability | Part Number | Description | Price | Lot Size | Buy |
| --- | --- | --- | --- | --- | --- |
| | 1525187 | FILTER-MINI SAE-8 | | | |
| | 1525188 | FILTER-MIDI SAE-12 | | | |
| | 1525199 | FILTER-MAX SAE-20 | | | |

Part numbers - Accessories found

| Availability | Part Number | Description | Price | Lot Size | Buy |
| --- | --- | --- | --- | --- | --- |