Magnom CP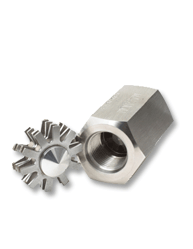 Bidirectional in-line magnetic filters for liquid, gas and grease systems
Key features:
- Mounting method In-line
- Flow direction Bi-directional
- Construction materials
- Housing Aluminium Alloy or Stainless Steel
- Mandrel Aluminium Alloy
- Flux plate Mild Steel
- Magnet Samarium Cobolt (SmCo)
- Housing pressure & temp rating
- Max operating pressure 207barg (3000psig) or 414barg (6000psig)
- Burst pressure 1103barg (16000psig) or 1655barg (24000psig)
- Max temp 150ºC (302ºF)
- Standard SAE-12 fittings

Built from Aluminium Alloy or Stainless Steel, the Circuit Protection Unit [CP] is a small 2 core Magnom™ in-line unit. The CP has a very high pressure capability making it highly suitable for a variety of industrial and hydraulic applications. In particular it is designed to protect key components, such as valves etc in fluid circuits.
A compact, versatile 2 core Magnom™ unit with high pressure capability makes it ideal for critical component protection in smaller transmissions, hydraulic lines and on 'on vehicle' automotive systems - including diesel fuel. A simple inline design with highly efficient flow dynamic minimizing pressure drop.
Small and efficient system protection.



Downloads
Brochures
Manuals and 3D Models
To access the MANUALS and 3D MODELS please sign in with the login box on the top right of the page or register

PART NUMBERS

Part numbers - Models found

| Availability | Part Number | Description | Price | Lot Size | Buy |
| --- | --- | --- | --- | --- | --- |
| | 1525195 | FILTER-CP SAE-10 | | | |
| | 1525196 | FILTER-CP SAE-12 | | | |
| | 1525197 | FILTER-CP SAE-10 SS | | | |
| | 1525198 | FILTER-CP SAE-12 SS | | | |

Part numbers - Accessories found

| Availability | Part Number | Description | Price | Lot Size | Buy |
| --- | --- | --- | --- | --- | --- |