Vip2 Advanced Lubrication Controller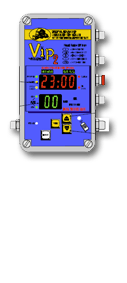 Specifications:
- Power Consumption: 20 Watt
- Operating Temperature: -5C to +55C.
INPUT CONTACTS:
- Power: 110V AC Single Phase
- Oil Level: Level switch normally open/normally closed software selectable
- Control Input: 12V Max.
- N.O. Pressure Switch.
- Micro/Reed Switch
- Proximity (NPN/PNP Autodetect)
- Air Pressure Transducer: Located internally and connected via 6mm push-in fitting.
- Connect 6mm nylon tube to air mixing chamber.
- 0.0 Bar Min - 7.0 Bar Max with increments of 0.1 Bar
OUTPUTS:
- Pump/Drive Line: 110V 5A 50/60 Hz.
- Air Solenoid: 110V 5A 50/60 Hz.
- Alarm Output: Voltage free contact, Max 110V, 1A software selectable normally open/ normally closed

The VIP-2 was created as an extension of the younger brother VIP-2. Designed for high performance at low cost, it is ideal for control and monitoring of the vast majority of plant lubrication of small and medium size.

Compared to the VIP, this device offers the monitoring of air pressure through a pressure transducer integrated facilities for small air-oil lubrication.
The connection with the pressure transducer is done very easily through a nylon tube of 6 mm in diameter and the pressure fitting installed at the side of the panel.
It is programmed by entering data via the menu, eliminating the problem of having to run or DIP switch terminals.
In addition, the panel is designed for remote programming via the remote VIP / SMART. Thanks to this remote control you can set all functions remotely and then send the configuration to one or more machine.
It is particularly suitable to customers using the system on a production line, avoiding to configure each control device individually.



Downloads
To access the documentation download area, please sign in with the login box on the top left of the page or register.
PART NUMBERS

Part numbers - Models found

| Availability | Part Number | Description | Price | Lot Size | Buy |
| --- | --- | --- | --- | --- | --- |
| | 1639092 | ELECTRONIC BOARD - SMART2 | | | |

Part numbers - Accessories found

| Availability | Part Number | Description | Price | Lot Size | Buy |
| --- | --- | --- | --- | --- | --- |