Fact 2000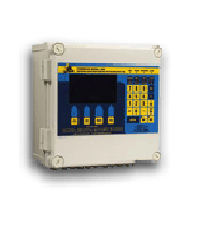 Flow Rate Meter
Specifications:
- Power supply Automatic range: 85÷260VAC - 50/60 Hz
- Power absorption: 30 W
- Input signals Flow meters: 24 V DC
- Output signals: ⇒ Servo Motors control for motorized Flowmaster 12 VDC
⇒ Remote alarm 250 V 1A (switch)
- Max Distance between FACT-2000 and FACT-Expander: 20 m (55 ft)
- Operating temperature: - 5°C ÷ + 55°C (-41°F ÷ +131°F)
- Storage temperature: -20°C ÷ +65°C (-68°F ÷ +149°F)
- Operating humidity: 90% max


Fact expander
Monitor and control
In medium/large lubrication systems it is often necessary to monitor separately and control the flow of each lubrication points. FACT-2000 was designed to monitor and control (via motorized Flowmasters) the lubricant flow. This controller is particularly suitable for medium/large lubrication systems.
System modularity allows system expansion without replacing the controller. Each FACT-2000 can monitor and control up to 16 Flowmasters, both manual and/or motorized.

The following accessories extend FACT-2000 monitoring and control power:
- Fact Expander: expansion to be connected to central unit. It can control further 16 Flowmasters. Controller can be connected to other 3 expansion units, reaching a whole capacity of control of 64 Flowmasters. Fact Expanders can be connected to FACT-2000 in cascade and are automatically configured.
- FACT software: a software to control remotely (by serial line RS-485) up to 32 controllers: so a PC, remotely holding 32 controllers (each controller connected to 3 expansions in cascade), can control up to 2048 flowmasters.


Downloads
Manuals and 3D IGS Models
To access the technical documentation download area, please sign in with the login box on the top left of the page or register
PART NUMBERS

Part numbers - Models found

| Availability | Part Number | Description | Price | Lot Size | Buy |
| --- | --- | --- | --- | --- | --- |
| | 1643110 | CONTROL PANEL-FACT EXPANDER | | | |

Part numbers - Accessories found

| Availability | Part Number | Description | Price | Lot Size | Buy |
| --- | --- | --- | --- | --- | --- |