Automatic lubrication System for Pulp & Paper industry
Modern production technology need efficient maintenance methods, reliability and reduced downtime. DropsA provides complete solutions from system's concept to the start-up
Introduction


The growing international competition which characterized the pulp & paper industry, demands to paper manufacturers to increase production capacities. Therefore, the efficiency of machinery has become even more important and the automatic lubrication systems is a great help to maintain a trouble-free production.

At the same time, the use of a centralized lubrication system has a positive influence also on the environmental and safety issues.




See here for products details:
DropsA's complete solutions for Pulp & Paper Industry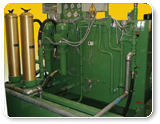 Experience in paper machinery lubrication system, capability of understanding customer requirements, continuous training support are the basic elements of DropsA engineering expertise.






Close this printer friendly page and go back to the standard layout