Electro-pneumatic Valve (4/2)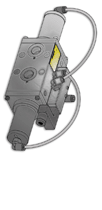 An electro-pneumatic Valve for oil and grease in Dual Line and hydraulic systems for pressure up to 400 bar
Key features:
- Max. delivery (Oil 100 cSt): 40L/min. (10.56 GPM)
- Air Pressure: 3 ÷ 10 bar ( 44 ÷ 47 psi)
- Max. operating pressure: 400 bar (5880 psi)
- Lubricant: Oil min. 32 cSt max. 1000 cSt Grease max. NLGI 2
- Port (R - P - 1 - 2): 3/8" BSP or NPT
- Voltage: 24V DC 110V AC, 230V AC,- 50/60 Hz
- Working temperature: -30° C ÷ + 50° C (-22° ÷ +122° F)
- Humidity: 90°
- Weight: 7,5 Kg (1716,53 lb)

AUTOMATIC CONTROL OF THE LUBRICATION CYCLE
The Electro-pneumatic Valve has been designed to satisfy a wide range of requirements.
Using the compressed air provided by the user, the Electro-pneumatic valve puts into communication alternatively the two outlet lines with the valve's single inlet line where the lubricant is in pressure.

The solenoid valve is therefore activated (and powered) directly by the electrical equipments that control the system. In this way it automatically controls the lubrication cycle.

Applications
* Dual Line: inversion of Dual line systems.
* Progressive and zoned systems: by plugging port 1 or 2. The valve can be used for zone complex circuits.
* Grease applications: particularly suited for grease, it can be applied to any circuit requiring a 4/2 valve.



Downloads
Brochures
Manuals and 3D Models
To access the MANUALS and 3D MODELS please sign in with the login box on the top right of the page or register